Six Trends Changing the Face of Competitive Intelligence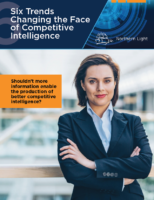 The information explosion of the past 20-plus years – the same two decades that saw the rise of the commercial internet – has brought us to a moment in which, for many organizations, meaningful competitive intelligence (CI) is a scarcer commodity than it ought to be.
This is both ironic and puzzling. After all, shouldn't more information enable the production of better competitive intelligence? Ultimately, yes – but not without help from technology to ameliorate some of the problems created by powerful forces at work in early 21st century business.
Complete the form below to request the guide.