Don't waste your time evaluating a knowledge management portal
your IT department will reject.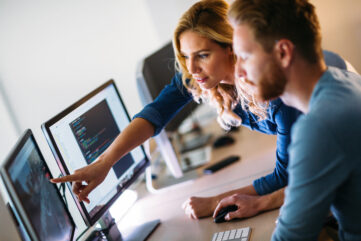 As your enterprise turns to more cloud-based and Software-as-a-Service application options, the organization's cybersecurity defenses and data security measures are evolving. Protecting your organization's content shouldn't be a function solely carried out by your IT department; it's a responsibility that needs to be shared across all departments, employees, and vendors, including your customer insights/competitive intelligence platform provider.
When an enterprise's market researchers and competitive intelligence (CI) experts evaluate potential knowledge management platforms, they often conduct their functionality assessment before involving IT, which means they may be spending valuable time considering portals that won't pass muster with IT. By bringing IT into the evaluation process early, market researchers and CI experts can narrow their focus to include only technologically viable platform options, saving considerable time and resources.
Your IT department will focus their evaluation on whether the service provider appropriately invests in the infrastructure and security of their knowledge management applications and data center.
Hackers can steal valuable content three ways:  by breaching a network, by exploiting a vulnerability that hasn't been patched, or by penetrating an application.
Therefore the majority of high-severity data security issues are due to vulnerabilities in a vendor's network security, patching cadence, and application security. Your IT team will want to know how your preferred customer insights/competitive intelligence platform vendor performs on these three areas.  And all vendors are not the same.
Request the SecurityScorecard to learn more: