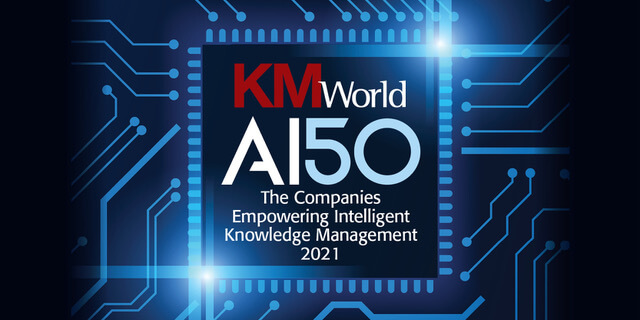 KMWorld Names Northern Light to its AI50: The Companies Empowering Intelligent Knowledge Management 2021
KMWorld Magazine has named Northern Light to its 2021 list of the top 50 "AI Trailblazers", companies empowering intelligent knowledge management by incorporating artificial intelligence (AI) into its solutions. Northern Light SinglePoint™ is an AI-powered knowledge management platform for market research and competitive intelligence used by over 250,000 professionals at Fortune 500 organizations worldwide.
"A spectrum of AI technologies, including machine learning, natural language processing, and workflow automation, is increasingly being deployed by sophisticated organizations," stated KMWorld Group Publisher Tom Hogan, Jr.  "Their goal is simple. These organizations seek to excel in an increasingly competitive marketplace by improving decision making, enhancing customer interactions, supporting remote workers, and streamlining their processes. To showcase knowledge management solution providers that are imbuing their offerings with intelligence and automation, KMWorld created the AI 50: The Companies Empowering Intelligent Knowledge Management."
Northern Light CEO David Seuss also contributed an "AI Trailblazer Insight" to KMWorld's July 2021 issue, in which the AI50 list appears.  Seuss' article calls out three significant machine learning features of SinglePoint, which collectively accelerate time-to-insight for users of Northern Light's knowledge management platform.