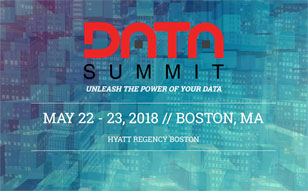 "The Path to Cognitive Search" at Data Summit 2018
The introduction of machine learning is changing the business search paradigm for the first time in over 20 years, David Seuss tells Boston conference attendees
BOSTON, May 29, 2018 — A generational shift in online business search is occurring as a result of the maturation and commercial availability of machine learning technology, Northern Light® CEO David Seuss told an audience of business technology leaders at Data Summit 2018 in Boston last week.
"Business search is far more complex than consumer search, because it's about mastering a topic, such as 'what are our competitors up to' or 'what do our customers care about,' rather than simply finding a fact, like 'what time will the movie start,'" Seuss said.  "Since 1994, when the first search engine was deployed, the business search process is largely unchanged: A user entered search terms in a field, hit the search button, got a list of documents called search results, reviewed the list to find a few that might be relevant, downloaded one document, manually scanned it to see if it's on point, and then returned to the list and continued the process until frustrated or out of time.
"Users are overwhelmed and tired, and would love to dispense with search altogether," Seuss explained.  "What people really want is a personal search assistant.  They demand to know why the machine can't just read all those documents for us and tell us what it finds.  Well, now it can. Machine learning can change the entire business search paradigm."
Seuss went on to describe the deeper insights that organizations and their knowledge workers can glean as a result of cognitive search, and how the new paradigm specifically supports the work styles and information consumption preferences of Millennials, who soon will represent a majority of the workforce.
Seuss' talk, entitled "The Path to Cognitive Search," was part of the Cognitive Computing Summit, a specialized conference track at Data Summit 2018, an intense two-day immersion into the major technologies and strategies for becoming a data-driven business held last week in Boston.
About Northern Light
Northern Light has been providing knowledge management platforms for competitive intelligence and market research insights to global enterprises since 1996.  The company pioneered the application of machine learning and artificial intelligence for the automated analysis and extraction of meaning from large collections of market research and competitive intelligence. Northern Light's current clients include 10 of Boston Consulting Group's 50 "Most Innovative Companies" of 2016, and Fortune 1000 leaders across multiple industries such as information technology, pharmaceuticals, telecommunications, and life sciences. Northern Light has over 250,000 users of its strategic research portals.  Headquartered in Boston, Massachusetts, Northern Light has unique content aggregation partnerships with more than 150 of the world's leading syndicated technology and industry research publishers, aggregates business and technology news from over 6,500 news sources and is a charter member of the Center for Complex Systems and Enterprises at the Stevens Institute of Technology.