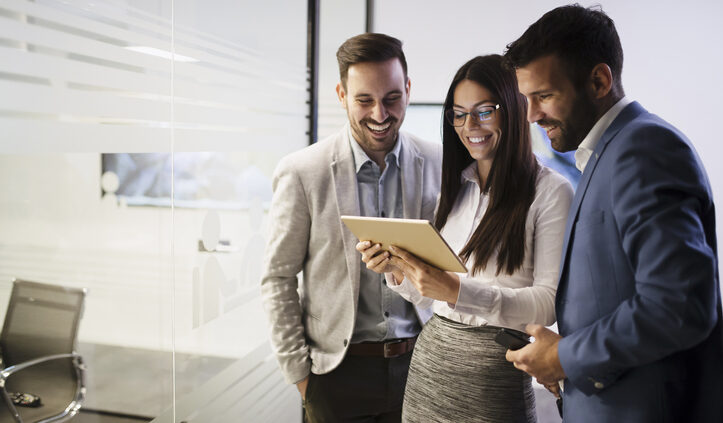 BCG: The cultural benefits of artificial intelligence in the enterprise
Can AI help CI teams not only do better work, but also work better together?
When most people think of deploying artificial intelligence (AI) in a business context, they think about how a computer might help a human solve a problem or answer a question that requires the machine to comprehend concepts rather than simply execute a numerical calculation.  And yes, good AI programs can do that.
But research published last month by Boston Consulting Group* (BCG) and MIT Sloan Management Review reports that "AI implementations that improve effectiveness often strengthen team and enterprise cultures."  Most people probably didn't see that coming.
According to the article, "Executives intimately involved with developing and implementing AI solutions offered numerous examples of how artificial intelligence helped their organizations become more efficient and make better decisions.  What's more, their team cultures were changing in response to these new levels of effectiveness; the cultural changes encompassed what teams learned, how they learned, how they worked together, and, in some instances, what they enjoyed about their work.  Many teams that used AI became stronger teams."
That's a significant "fringe benefit" of an AI project.
Think about your organization's competitive intelligence (CI) group.  These professionals likely are called upon by their internal clients to find and synthesize a wide array of research reports, market studies, and other documents from a range of internal and external sources to support marketing, strategic planning and other vital projects across the enterprise.  What if a computer could do that piece of the job for them?  What if the machine could quickly identify and read all the relevant reports, summarize the major ideas within each, and present that information in a concise report?
Everything described above is possible today, thanks to AI embedded within a CI portal.  Now, with that as the starting point, how much more value might the CI professional deliver to that internal client?  And how might elevating the CI function's contribution to strategic decision-making impact morale and cohesiveness of the CI team?
BCG states, "About 58% of all survey respondents who participated in an AI implementation agreed that their AI solutions improved efficiency and decision-making at the team level…  When teams become efficient and make better decisions because of AI, several aspects of culture also improve, including collective learning, collaboration, morale, and clarity of roles."

"Adding AI to the team improved team effectiveness. The survey findings reinforce what we heard in our executive interviews: Using AI can strengthen team performance.  But, more importantly, cultural benefits emerge when teams improve decision-making and efficiency with AI, and, transitively, these benefits would not have emerged if the team's culture had not embraced the AI solutions in the first place."
This finding makes a strong case for prioritizing AI functionality in the spec for an enterprise CI portal, not only to improve the work product of the CI team, but also to improve the team itself.
# # #
* BCG is one of dozens of authoritative sources contained in Northern Light's Thought Leaders Content Collection, available to SinglePoint subscribers directly from Northern Light, and to individuals and companies through Amazon's AWS Marketplace and the Amazon Data Exchange.