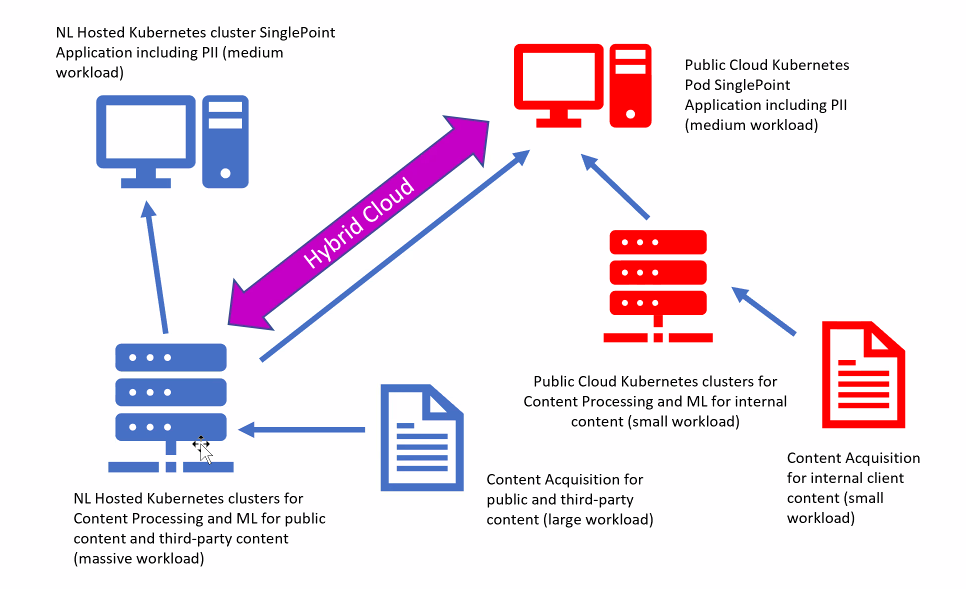 Northern Light Offers Cloud Deployment Options for SinglePoint Enterprise Knowledge Management Portals Using Kubernetes
BOSTON, Oct. 3, 2023 — Northern Light today announced it is offering clients the option of deploying SinglePoint™ enterprise market and competitive intelligence research portals in hybrid cloud or public cloud configurations, anywhere in the world.
This flexibility is particularly valuable to Northern Light's European and Asia/Pacific clients, as they prefer to have the option of storing their research content and portal users' personally identifiable information (PII) within their local legal jurisdiction.
Northern Light is using Kubernetes software to deploy and operate cloud-based instances of SinglePoint.  Originally developed by Google, Kubernetes "is an open-source system to deploy, scale and manage containerized applications anywhere."  Kubernetes is like a super-smart factory manager that ensures applications run smoothly, efficiently, and can adapt to changes in demand without any manual intervention.
"The ability for an enterprise to have its instance of SinglePoint anywhere in the world adds a new layer of flexibility," C. David Seuss, Northern Light's CEO, said.  "Even as we place the SinglePoint application with a client's proprietary content and user PII in Kubernetes orchestration in the cloud, we will continue to use Northern Light's data centers for heavy workload processes, such as natural language processing for third-party content.  Such a deployment model helps keep the cost of providing our platform low while simultaneously satisfying regulatory concerns."
SinglePoint is a SaaS-based enterprise knowledge management platform that seamlessly integrates and enables full-text search, generative AI-driven analysis, and versatile sharing of an organization's research resources to create an enterprise-scale market research and competitive intelligence portal.  SinglePoint is used by many of the world's foremost research-driven enterprises, across industries and business functions, to expedite time-to-insight and enable better, more fully informed business decisions.
About Northern Light
Northern Light has been providing knowledge management platforms for competitive intelligence and market research insights to global enterprises since 1996.  Northern Light's current clients include Fortune 1000 leaders across multiple industries such as information technology, pharmaceuticals, telecommunications, and life sciences.  Northern Light has over 200,000 users of its strategic research portals worldwide.  Headquartered in Boston, Massachusetts, Northern Light has repeatedly been recognized as one of KMWorld's "AI 50" – the companies empowering intelligent knowledge management – and has won the KMWorld Readers' Choice Award multiple times.