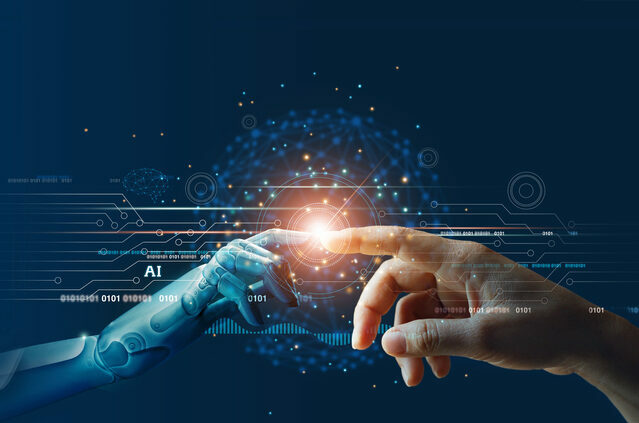 The AI Advantage of Bionic Companies
In a recent infographic*, The Boston Consulting Group (BCG) highlights the advantages that a subset of what it calls bionic companies – "those that combine human and technology capabilities" – have over their competition, due to their creative implementation of artificial intelligence (AI) capabilities.
BCG calls out technology, telecom, and financial institutions as the most digitally advanced industries overall, based on their 2020 Digital Acceleration Index (DAI) survey of 2,300 companies worldwide.  This is consistent with Northern Light's experience, though we would add biopharma to that list, based on our familiarity implementing AI-enabled strategic research portals at global enterprises in that industry, too.
The "bionic AI" subset that BCG identifies represents approximately 17% of all bionic companies in their survey.  Common characteristics of those elite companies, according to BCG, include:
They have prioritized revenue growth and innovation over cost reduction.
They treat AI as core to their business transformation and key to introducing new agile ways of working.
They have invested in talent to integrate AI algorithms and human capabilities to improve business processes.
Northern Light can attest to the fact that searching and mining competitive intelligence and market research is one of the enterprise applications AI technology is enabling at bionic companies.  These organizations are investing in technology to augment human capabilities and enable competitive intelligence professionals to perform at the "top of their license" and thus deliver optimal value to all who use market research to inform business decisions across an organization's various lines of business.
At our clients, there's genuine eagerness to leverage AI-driven knowledge management capabilities provided by Northern Light, including:
Insights Reports – SinglePoint enables auto-summarization of search results. The search engine reads all of the documents and summarizes the most significant ideas contained in the documents on the search result into an Insights Report. The user can express an interest in knowing more about a topic – what used to be called a "search query" – and then the system delivers a report rather than just a list of documents. The machine does the search and then tells the user what it finds that the user should know.
Recommended Reading List – SinglePoint learns what a user is interested in based on what they download. SinglePoint's machine learning algorithms then build a semantic model of the user and compare it to the semantic models of each document that are added to the research collection. Based on this comparison, SinglePoint recommends content to the user. With this Recommended Reading List, relevant content will in effect come and find you rather than you having to go look for it.
More Like This – By building a semantic model of each document, SinglePoint automatically finds additional content for the user that will address the same topics in the same weighting as a document of interest, and presents it with a quick click of the More Like This button.
There's no doubt that the "bionic AI" companies BCG applauds have a leg up on their competition when it comes to leveraging technology to maximum business benefit – including the ability to assess the market intelligence that will help keep them ahead of those competitors.
* BCG's infographic is one of thousands of thought-provoking pieces contained in Northern Light's Thought Leaders Content Collection, available to SinglePoint subscribers directly from Northern Light, and to individuals and companies through Amazon's AWS Marketplace and the Amazon Data Exchange.