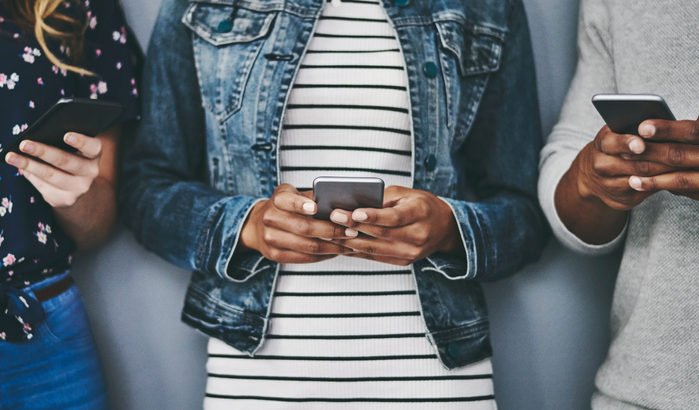 Insights on #COVID19 and #Coronavirus
The Coronavirus is the number-one news story in America. To date, the virus, which first appeared in China's Wuhan province late in 2019, has, of this writing, been confirmed in 90 countries and has killed more than 4,000 worldwide, according to the World Health Organization (WHO). In the United States, more than 900 have been reported in more than 30 states, according to the CDC. There have been 30 deaths, mostly in the State of Washington.
In fact, because the virus has a long incubation period and can spread from infected individuals who don't yet display systems, the actual number of active cases could be much higher. In fact, statistical modeling suggests there now could be 500 to 600 cases of the disease just in the Seattle area alone.
How are people talking about the Coronavirus on social media? What topics/keywords/hashtags are trending? The more you know about how people are talking about this topic of high concern to pharmaceutical companies and healthcare providers, the better you can become part of the conversation. 
Social Analytics Provides Insights
Social Analytics from Northern Light can provide you with the insights you need to accurately target Twitter conversations regarding the Coronavirus and design your social media marketing budget accordingly. Powered by machine learning, Social Analytics quantifies the content focus, reach, and overlap of Twitter messaging so you understand exactly how relevant and important different hashtags are. Similarly, it allows you to analyze Twitter author accounts to determine which ones are the most influential with the most relevant audiences. Analysis of Twitter post hashtags and keywords can also reveal what competitors are emphasizing so you can detect their strategic focus.
Investigating the Coronavirus with #coronavirus
For example, a search of the #coronavirus on Social Analytics revealed:
#coronavirus yields a staggering 238,579,045 impressions.
Other popular variations include #coronavirusoutbreak (15.5 million impressions) and #coronaoutbreak (2.3 million impressions).
Misspellings are common, with #coronaravirus, #coronaivus and #coronavirues.
Words tweeters are commonly using along with "coronavirus" include "publichealth", "outbreak", "covid19", "cases", and "pharma".
The accounts tweeting the most about "coronavirus" include the WHO, United Nations, Economic Times, Mayo Clinic, and People's Daily China.
#coronavirus wasn't even a hashtag until early January!
Sentiments – what people think about the coronavirus – are led by "better" (104 million), "outbreak" (54.4 million), "should" (18 million), "need to" (15.4 million), "infected" (15 million), "work" (13.8 million), "threat" (12.7 million), and "guidance" (12.2 million). This seems to mirror the public discourse and news outlets.
Alternative Search – #COVID19
A similar hashtag search for the more technical term COVID-19 produced somewhat different results. For example:
Lats week #covid19 trailed behind #coronavirus in numbers. That has flipped with #covid19 now showing 372,515,608 impressions in 90 days.
Tweets with #covid19 have an 83% semantic similarity with tweets containing #coronvirus meaning that they are part of the same conversation.
In addition to the obvious "coronavirus," associated keywords are "outbreak" (45.8 million), "cases" (43 million), "countries" (40.3 million), "response" (24.2 million), "transmission" (23 million), and "public health" (17.5 million).
Last week the most popular keywords were different, showing a change in the conversation. Top keywords then included "hospitals" (7.9 million impressions), "wuhan" (7.4 million impressions) and "epicenter" (7.1 million impressions).
Associated sentiments are "better" (286 million impressions), "outbreak" (65.7 million impressions), "support" (46.4 million), "thank" (34.5 million), "should" (34 million). Rounding out the top ten are "epidemic", "work", "safe", "great", and "commitment".  Here too we see changes from last week when words like "integrated", "infected", "makeshift", "largest", "virus," "severe," "symptoms" and "difficult" were top sentiments.   Notice the similarities and differences between sentiments in tweets with #coronavirus vs #covid19.  More of the words in #covid19 are positive.
If you use both #coronavirus and #covid19 together, you get a net 493 million impressions.
This chart shows when #covid19 became more widely used over #coronavirus.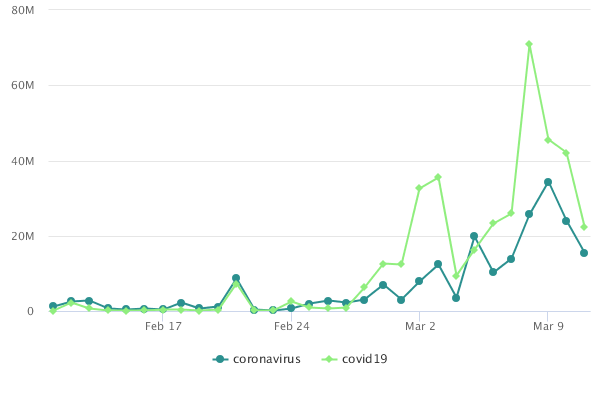 A Global View
People on social media appear to be taking a global view of this topic. Area-specific hashtags such as "#covid19ireland", "#covid19india" and "#covid19uk" produce fewer than 100,000 impressions each. "#covid19usa" yields just 99,032 impressions.  The standout is #corona19fr with 500,000 impressions.
Perhaps of interest to pharmaceutical companies, the hashtag #vaccine has only a 49% semantic similarity with #covid19 and 58% semantic similarity to #coronavirus meaning that they're not part of the same conversation.  As with all searches, Social Analytics displays popular conversations associated with this word pairing so you can join the conversation at will.
A Fast-Moving Issue
The Twitterverse's coverage of COVID-19 is moving as fast as the virus itself. Social Analytics allows you stay atop of public sentiment as it shifts with every news report. For any company involved in pharmaceutical manufacturing, research, or marketing, Social Analytics provides the data you need to make the smartest possible social marketing decisions.
Learn more about Social Analytics or contact us to start a conversation.