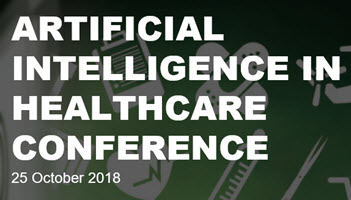 End of the Era of Search at AI in Healthcare Conference
BOSTON, Nov. 2, 2018 — Speaking at the MarketsandMarkets AI in Healthcare Conference last week in Boston, Northern Light CEO C. David Seuss told attendees that machine learning heralds the end of the traditional search paradigm, and represents a boon to efficiency and productivity for market researchers in the healthcare industry and many others.
In his 30-minute presentation, entitled "Machine Learning for Search in Market Research and Competitive Intelligence," Seuss explained that, thanks to artificial intelligence (AI), now the computer can refine queries for the user, read the reports and tell the user what it finds, and watch the content flow and alert the user when there is something they should know.
"Business search is far more complex than consumer search, because it's about mastering a topic, such as 'what are our competitors up to' or 'what do our customers care about', rather than simply finding a fact, like 'what time will the movie start'," Seuss said.  "What business users really want from search is to not have to manually refine a query to find more on-point articles, and to not have to manually review a search result at all.  They want the machine to figure out the right query, and read the documents on the search result and report on what it finds.  That's all now possible."
About Northern Light
Northern Light has been providing knowledge management platforms for competitive intelligence and market research insights to global enterprises since 1996.  The company pioneered the application of machine learning and artificial intelligence for the automated analysis and extraction of meaning from large collections of market research and competitive intelligence. Northern Light's current clients include seven of Boston Consulting Group's 50 "Most Innovative Companies" of 2018, and Fortune 1000 leaders across multiple industries such as information technology, pharmaceuticals, telecommunications, and life sciences. Northern Light has over 250,000 users of its strategic research portals.  Headquartered in Boston, Massachusetts, Northern Light has unique content aggregation partnerships with more than 150 of the world's leading syndicated technology and industry research publishers, aggregates business and technology news from over 6,500 news sources, and is a charter member of the Center for Complex Systems and Enterprises at the Stevens Institute of Technology.