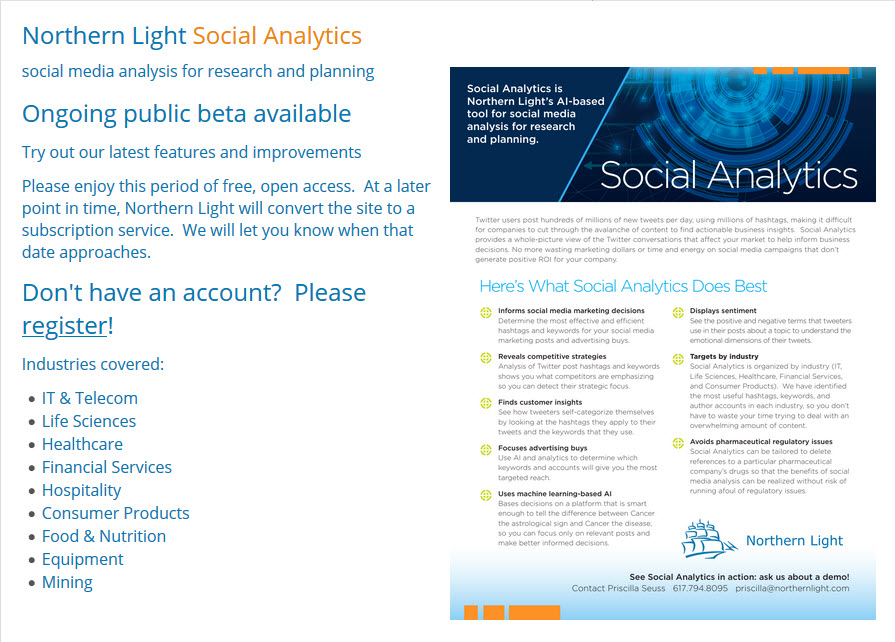 Northern Light Offers Free Public Beta of its AI-Based Tool for Twitter Analysis, Research, and Planning
Northern Light Social Analytics helps marketers automatically identify meaningfully connected terms within social media posts to optimize ad spend, target social media posts, and analyze competitors' business strategies
BOSTON, April 7, 2020 — Northern Light® (www.northernlight.com) today announced the immediate public availability of a free beta version of Northern Light Social Analytics™, the first enterprise class, AI-enabled tool that can automatically identify thousands of closely correlated Twitter keywords, hashtags, and authors to guide social media marketing and inform a company's competitive intelligence (CI) and market research efforts.
Northern Light Social Analytics is optimized for social media marketing decisions and market research rather than social media monitoring. Any hashtag can be instantly analyzed to determine its semantic association with other hashtags, its association with keywords, and authors who have used it and their location, either by the number of posts or the number of viewer impressions those posts generated, giving the user valuable insights into social media messaging and targeting.
Northern Light Social Analytics employs machine learning to create a ranked list of meaningful hashtags related to a specified primary term. For example, should a company with a machine-learning-based AI product use "#AI," "#machinelearning," or both in their social media posts? Northern Light Social Analytics can answer that question. (#AI is the answer.)
"Northern Light Social Analytics understands the meaning and context of social posts. That's what makes it invaluable for advertising planning and strategy, as well as market research and competitive intelligence," C. David Seuss, Northern Light's CEO, said. "The role of social media as both a marketing and research vehicle continues to mushroom across all sectors of business and industry. No company can afford to have anything less than a deep and nuanced understanding of the messages pouring forth."
The free public beta version of Northern Light Social Analytics covers several industries, including IT, Telecom, Financial Services, Hospitality, Consumer Products, Healthcare, Life Sciences, Food & Nutrition, Equipment, and Mining.
For more information about Northern Light Social Analytics for enterprise or agency use, including a custom version for a specific organization, contact Paul Wilson.
About Northern Light
Northern Light has been providing knowledge management platforms for competitive intelligence and market research insights to global enterprises since 1996. The company pioneered the application of machine learning and artificial intelligence for the automated analysis and extraction of meaning from large collections of market research and competitive intelligence, and its SinglePoint™ enterprise knowledge management platform was honored as one of KMWorld's Trend-Setting Products of 2019. Northern Light's current clients include Fortune 1000 leaders across multiple industries such as information technology, pharmaceuticals, telecommunications, and life sciences. Northern Light has over 250,000 users of its strategic research portals. Headquartered in Boston, Massachusetts, Northern Light has unique content aggregation partnerships with more than 150 of the world's leading syndicated technology and industry research publishers, aggregates business and technology news from over 6,500 news sources, and is a charter member of the Center for Complex Systems and Enterprises at the Stevens Institute of Technology.