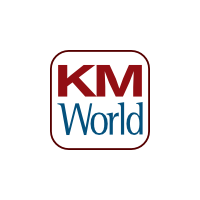 KM World: Cognitive Computing and the Future of Knowledge Management
Many technologies that fall under the AI umbrella are changing the way organizations search for and discover important information. The knowledge management space is on the verge of a new era in computing and information management.
Cognitive systems, natural language processing (NLP), and machine learning, applied to both structured and unstructured data, impact how that information can be analyzed to create knowledge.
KMWorld recently held a webinar featuring Brian Flynn, director of solution architecture, Attivio, and David Seuss, chief executive officer, Northern Light Group, who discussed the next evolution in cognitive computing in regard to knowledge management.
*     *     *
Northern Light also offers a solution that can help people in the KM space, Seuss said. Northern Light SinglePoint is a SaaS-based, complete end-to-end KM solution for market research and CI.
The platform offers:
Content aggregation from every relevant source
Search, analytics, and machine learning-based search assistance
Personalization and collaboration
Hosting, provisioning, operations, backup, failover
Internal research collection, workflow search, upload
Dashboards, newsletters, email alerts, RSS, API
User, portal, and content management systems
SSO and other forms of authentication
Northern Light Business News
Mobile-first, fully-responsive UI
Real-time reporting
Interoperable with enterprise systems
Seuss further discusses the evolution of search and how the next generation is utilizing the technology.
"The truth is Millennials are extremely efficient information gatherers when the tools are right and designed for their cognitive style," Seuss said.