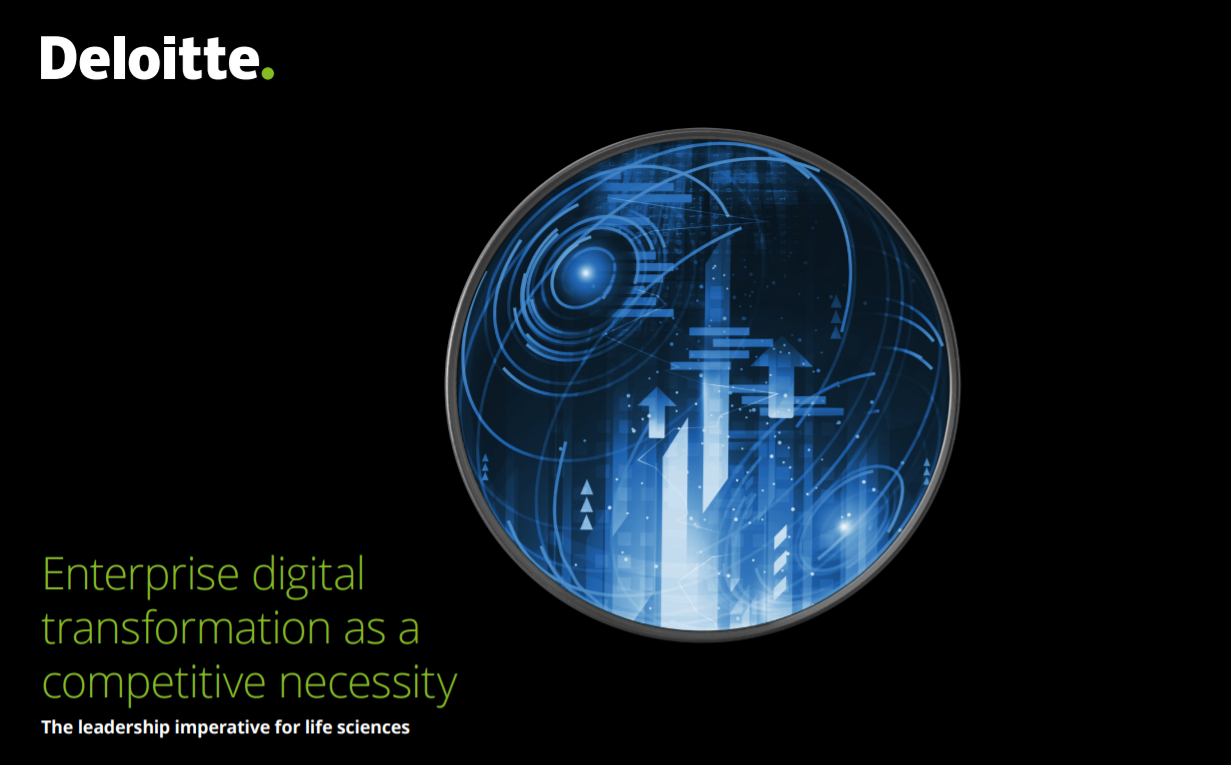 Deloitte: Enterprise Digital Transformation is a Competitive Necessity for Life Sciences Companies… and Knowledge Management is a Driver
Business consultants have been talking about "digital transformation" for years, and many global enterprises have enthusiastically embraced the concept.  In a recent e-book*, entitled "Enterprise digital transformation as a competitive necessity: The leadership imperative for life sciences", Deloitte argues that digital transformation is now a prerequisite for survival in the highly competitive life sciences industry.
Deloitte's authors state, "Connected and enterprise digital transformations are not a technology fad; rather, they are a competitive imperative to amplify science, insights, productivity, and collaboration to succeed in a digital health ecosystem."  Survey data supports Deloitte's contention that digital transformation initiatives are becoming "mainstream" – they say 77% of companies are significantly accelerating their digital transformations – but many companies still have a long way to go.  "Every life sciences company is doing random acts of digital— evolving patient experiences, moving assets to the cloud—but most are not being digital, i.e., they're not taking a holistic, connected, scalable approach to business digital adoption; they're not truly transforming."
Whether any given organization puts its digital capabilities to best use, and ultimately achieves a competitive advantage, is up to the imagination and creativity of its strategic and technology leaders.  The priority, as Deloitte puts it, is "executing intelligently and agilely to thrive as business conditions change."
At Northern Light, we see this every day among our forward-thinking life sciences (and other) clients, as they leverage their knowledge management systems in the market research and competitive intelligence domain.  In Deloitte's digital value model, effective knowledge management is considered a "capability play", which contributes to creating an "insight- and information-driven organization."
With Northern Light SinglePoint™, the knowledge management infrastructure required to accomplish this piece of digital transformation is surprisingly easy for an organization to deploy.  That's because SinglePoint is a fully-hosted enterprise knowledge management solution that can be customized to the needs and content preferences of an organization and brought live within 45 days.  All the market research and competitive intelligence from both internal and external sources that lives in reports and other documents across the enterprise is fully integrated and searchable in one place, readily accessible to every employee.  And SinglePoint's embedded artificial intelligence (AI) capabilities, which summarize and synthesize the main points of key documents and direct users to other relevant content based on their interests, accelerate time-to-insight for all users of the system, driving better and more timely business decisions.
Clearly, the degree of difficulty in executing comprehensive digital transformation can vary widely, by industry and by business function.  The good news is certain foundational capabilities – key enablers for a broad enterprise-wide effort, such as knowledge management – can be accomplished fairly quickly and painlessly. 
* Deloitte's e-book is one of thousands of thought-provoking pieces contained in Northern Light's Thought Leaders Content Collection, available to SinglePoint subscribers directly from Northern Light, and to individuals and companies through Amazon's AWS Marketplace and the Amazon Data Exchange.