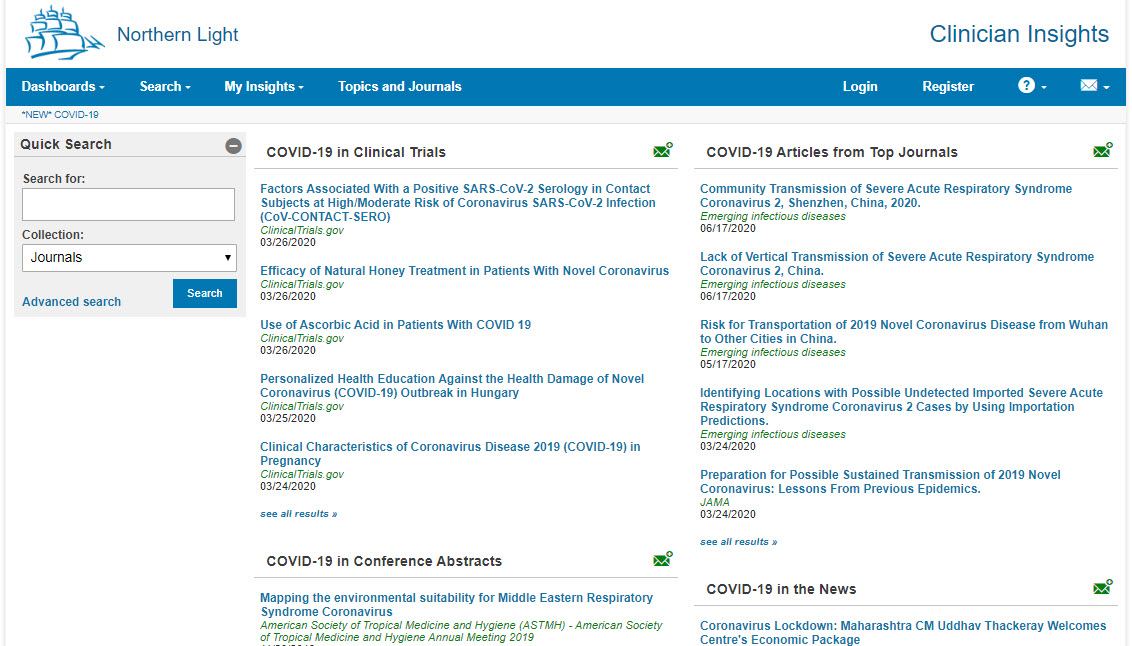 Northern Light Adds COVID-19 Research to ClinicianInsights.com
Northern Light applies its unique search and content aggregation capabilities to do its part during the current global pandemic
BOSTON, MA, March 27, 2020 — Northern Light today announced the addition of a COVID-19 research dashboard to Clinician Insights™, an open and freely accessible website that offers physicians and other healthcare clinicians instant, searchable access to clinical trials, abstracts of articles published in over 5,000 of the world's premier medical research journals and research presented at over 200 global medical conferences during the past 15 months.
Clinician Insights enables users to easily browse the latest research and conference papers in more than a dozen clinical specialties to glean useful and timely information to support their patient care initiatives.  The Clinician Insights website, which requires no registration to use and has no advertising, enables integrated search across multiple content sources, and delivers informative search summaries and article abstracts.  In addition, users can save custom searches and bookmark articles, receive email search alerts about new research or news in their clinical specialty, and create custom dashboards with only the topics an individual cares most about.
The underlying technology that drives Clinician Insights is Northern Light SinglePoint™, an enterprise strategic research portal platform used for research by 250,000 professionals at Fortune 100 organizations, including the largest pharmaceutical companies in the world.  The curated content contained in Clinician Insights is drawn from ClinicalTrials.gov, MEDLINE (aggregated by the National Institutes of Health), Northern Light Business News, and Northern Light Conference Abstracts research collections.
"What Northern Light is really good at is making research easy to find and accessible," C. David Seuss, Northern Light's CEO, said.  "We do this for many of the largest pharmaceutical companies in the world.  Given the situation with the coronavirus pandemic, it seemed obvious the right thing to do was to bring Northern Light's skills and deep content resources to bear to help clinicians and researchers beat this threat back by making research that is otherwise hard to find and hard to search easily available.  Healthcare providers, practicing physicians, policy makers, and even patients can go to Clinician Insights to keep up with the latest clinical trial information and research  based on reliably-sourced information, well organized and clearly presented."
About Northern Light
Northern Light has been providing knowledge management platforms for competitive intelligence and market research insights to global enterprises since 1996.  The company pioneered the application of machine learning and artificial intelligence for the automated analysis and extraction of meaning from large collections of market research and competitive intelligence, and its SinglePoint™ enterprise knowledge management platform was honored as one of KMWorld's Trend-Setting Products of 2019.  Northern Light's current clients include Fortune 1000 leaders across multiple industries such as information technology, pharmaceuticals, telecommunications, and life sciences.  Northern Light has over 250,000 users of its strategic research portals.  Headquartered in Boston, Massachusetts, Northern Light has unique content aggregation partnerships with more than 150 of the world's leading syndicated technology and industry research publishers, aggregates business and technology news from over 6,500 news sources, and is a charter member of the Center for Complex Systems and Enterprises at the Stevens Institute of Technology.