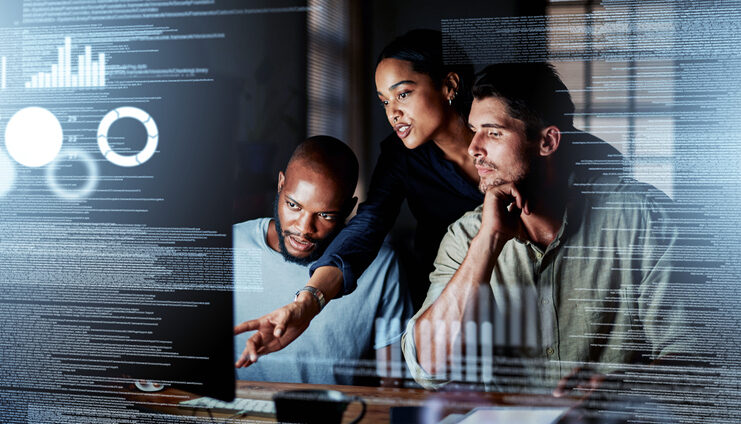 The future of applied intelligence in business hinges on deploying enterprise intelligence platforms, says IDC
The digital transformation of business hinges on many information technology (IT)-enabled workflows.  In a recent webinar, IT industry research and advisory firm IDC discussed the role of enterprise intelligence platforms in digital transformation and building intelligent organizations.
The webinar presenter, IDC research director Chandana Gopal, noted, "Technology investments alone won't lead to greater enterprise intelligence; yet, lack of a modern enterprise intelligence platform will critically hinder businesses' ability to improve enterprise intelligence."  IDC defines such platforms as offering "functionality for continuous monitoring, learning, explanation, and adaptation."
IDC's research on this topic found that the second most difficult challenge associated with enterprise intelligence is the inability for organizations to synthesize internal and external data sources.  Also on the list of challenges identified in IDC's research is the inability for organizations to share knowledge, learning and insights.
IDC's findings resonate strongly with Northern Light and our customers, since addressing those very challenges has driven development of the Northern Light SinglePoint™ enterprise knowledge management platform for nearly 20 years.  SinglePoint is designed to do precisely the difficult things called out in IDC's study, specifically for an organization's customer insights and competitive intelligence content, to benefit the broad swath of professionals within an enterprise who seek to tap into that content to inform their decision-making every day.  Integrating internal and external content sources, tagged consistently and searchable through a single query, has been a core capability (and key differentiator) of SinglePoint since its inception.  And SinglePoint also features an information distribution ecosystem, comprising various mechanisms – dashboards, e-newsletters, email alerts, and more – for sharing content and insights with appropriate people throughout an organization.
Furthermore, the AI-based machine learning capabilities embedded within SinglePoint – the system's ability to automatically summarize and synthesize important ideas contained in search results into "insights reports", and its ability to automatically refine search queries and recommend additional content of interest based on a user's past search behavior – streamline workflow for researchers to expedite time-to-insight.  This functionality is consistent with two of IDC's top-four 2022 predictions for the worldwide future of intelligence:
"40% of Global 2000 organizations will double the use of intelligent automation in knowledge retention, dissemination, and information synthesis by 2026, filling the skills vacuum in the data-to-insights lifecycle."
"By 2026, 30% of organizations will use forms of…AI/ML-driven insights to nudge employees' actions, leading to a 60% increase in desired outcomes."
Another IDC prediction shared by Chandana Gopal in her webinar, which speaks to Northern Light's focus, is:
"By 2023, 60% of enterprise intelligence initiatives will be business-specific, purpose built for business, shortening the data-to-decisions timeframe by 30%, driving higher agility and resiliency."
As Gopal notes, "Projects typically take longest during the implementation phase, which can be significantly shortened with domain-specific offerings."  Because SinglePoint is a purpose-built knowledge management platform for market research, customer insights and competitive intelligence content, and is deployed using a SaaS model, it offers multiple benefits related to domain-specific focus and rapid implementation, consistent with IDC's guidance.
As organizations place greater focus on technology and processes to bolster their capacity to learn and synthesize information, we expect IDC's predictions will come to pass, and may even prove to be conservative estimates.  Based on what Northern Light sees and hears every day from our global enterprise customers – some of the world's foremost innovation-driven companies – they already are becoming the types of "intelligent organizations" IDC holds up as leaders in their industries.