The Question Of Fake News | Northern Light Blog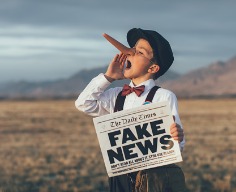 The best way to prevent fake news from being consumed by your researchers is to control the quality of the sources included in your news feed.   Sources like the ones we include our Northern Light Business News feed will never originate and only rarely republish fake news stories.
Fake news can only go viral when someone makes up a story and then publishes it on a website. Because many web news sites do not originate their own content but use automated means to find stories on other web sites, they end up republishing these stories.   That means fake news stories spread across the web at the speed that software algorithms can copy and republish them, which is very fast.
Every one of the news sources included in Northern Light Business News must passes muster with our editorial department.  The source must have only original, high quality content that provides analysis, commentary, and perspective.  The source must employ journalists who use bylines and who are knowledgeable about the industries they write about.   Such sources and journalists are unlikely to fall for a fake news story and they rarely republish other source's material.
While we can't claim that our editorial practices guarantee we will never ever include a fake news story in our feed, it would have to be a story that has already convinced knowledgeable and careful journalists.  This eliminates a huge part of the risk of further disseminating fake news when using our news feed.